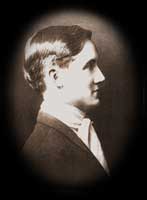 Between 1915 and 1924, Alexander, billed as The Man Who Knows, astounded theater audiences, performing feats of mind-reading and psychic prediction that defied explanation.
Cloaked in exotic robes from the Orient, wearing a jeweled turban and holding his trademark gazing globe, Alexander dominated the stage for nearly a decade before retiring in 1924, at the age of 43, the richest man in vaudeville.
A skilled stage magician, Claude Alexander Conlin thrilled audiences in his famous physic act during which he would answer questions from the audience that were delivered to the stage in sealed envelopes.
At the height of his career, he sold out theaters across the United States and Canada for weeks at a time, making millions from box office receipts, and from the sale of books, crystal balls, and related merchandise.
He traveled the world, and counted among his friends such show-business luminaries as Alexander Pantages, John Considine, Rudolph Valentine, and Clara Bow.
The magician waged open war with anyone who dared try to debunk him, including the Great Houdini, among others. He would quickly decode and then expose the secrets and elaborate techniques used by his rivals to fool audiences.
He even provided blueprints for the manufacture of psychic act stage props, and revealed the famous "Zancig Code" pioneered by the mentalists Julius and Agnes Zancig.
Alexander was the highest-paid mentalist in the world during his time, whose personal life was kept quiet until recently when a surviving granddaughter inherited a scrapbook of memoirs from her grandfather Alexander.
Surviving members of Alexander's family interviewed by David Charvet say that Alexander had "seven marriages (sometimes to more than one woman at once), spent time in local jails and federal prison, went on trial for attempting to extort an oilman millionaire, made a failed attempt to out run the authorities in a high powered speed-boat loaded with bootlegged liquor, and admitted killing four men."
Other sources say Alexander had a total of eleven marriages throughout his lifetime, some of which were to married women.
Many say he also dabbled in bootlegging, some say opium, and possibly the white slave trade.
Alexander has been described by many accounts as a fraud and a con-man. And granted, Alexander made an absolute fortune off his supposed ability as a Seer. But the question of whether he totally discounted paranormal phenomena and spiritualism is somewhat unclear.
He published a book called The Life And Mysteries Of The Celebrated Dr. Q in 1921, about the magic trade, exposing tricks and secrets. However he also put out a lot of genuine material on spiritualism and the New Thought Movement such as his The Inner Secrets of Psychology, and Personal Lessons, Codes, and Instructions for Members of the Crystal Silence League that suggest he found elements of truth in the subject matter.
Upon retiring Alexander passed the turban and sold his entire act, image and publicity to mentalist Robert Nelson, who went on to perform under his name for some time after.
It would seem that the private life of Alexander was just as bizarre and surprising as his life on the stage; the secrets of his technique have never been fully revealed, but his fame or infamy can be attributed to his remarkable showmanship, and his ability to allow people to believe the unbelievable.
Information and images from:
The Man Who Knows by David Charvet, 2007
http://www.mrmagician.co.uk
www.generalrubric.com/magicposters
The Life And Mysteries Of The Celebrated Dr. Q (also known as The Dr. Q. Book) (1921, Alexander Publishing Co., Los Angeles, California; later reprinted by Robert Nelson, Columbus, Ohio)
The Inner Secrets of Psychology Vol. 1, 1924. (and an unknown number of further volumes)
Personal Lessons, Codes, and Instructions for Members of the Crystal Silence League, C. Alexander Publishing Co. n.d. (c. 1925 - 1930)