Hi my lovelies! I'm back and I've amassed lots of great research information for you, from Salvadoran sunken beach-mansions of drug barons to war-torn crumbling colonial ruins, but first, I'd like to pay homage to a very special freak of nature, Jake the Alligator Man, whose 4th annual 75th Birthday celebration was last weekend on August 6th, down in Jake's home, the stormy shores of Long Beach, Washington.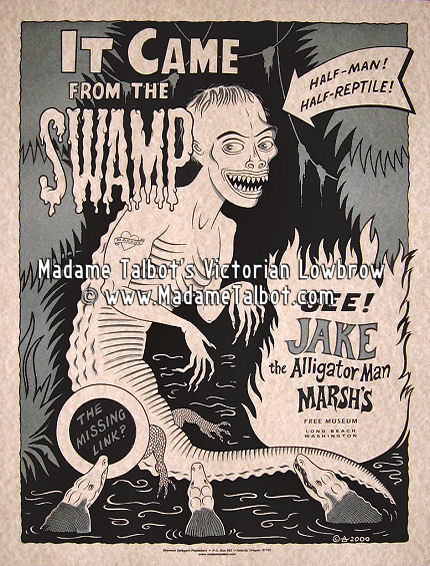 For those of you not acquainted with Jake, he is a half-man half-alligator who has been on display at Marsh's Free Museum since they acquired him in 1967 from an antiques dealer.
"He knew my wife (Marian) and I liked that kind of weird crap," Marsh said. "We found a way to buy it. We thought it would be a good conversation piece."
No one quite knows where Jake came from, rumor has it he used to smoke cigars and hang out in a swank New Orleans brothel in his days of youth.
One Kelso couple said they saw Jake performing in a sideshow at a Texas carnival.
He supposedly answered simple yes or no questions with a nod of his head. The freak even dressed in drag at a San Francisco club, according to some reports. There, he was Minnie the Mermaid.
Every year, at Jake's birthday celebration there is a Bride of Jake Pin-up contest in which 10 lucky women compete.
The winners this year were Olga and Elsa Siamese twins (Mishalla DeGagne & Cara Mia).
The bridesmaid was Charlotte Truese who last year had a pickled punk baby Jake, she returned this year with a toddler baby Jake and the DNA results proving paternity. Jake's Legacy lives on...
Elsa and Olga, the Siamese twin Brides of Jake 2010
Bride of Jake pin-up contest
Directions to Jake's home: From Interstate 5 near Longview, take state Highway 101 south, then follow to Long Beach. Marsh's Free Museum is on the main strip in town.
Sources: http://jakethealligatorman.com/